How We Help
Take a minute to hear how our volunteers make a difference. 
Complete an application today. 

 
Below is a list of all the ways you can receive help and give help.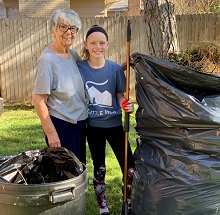 Yard Work
A Little Help enables older adults to continue taking pride in their homes and yards.  Many chores become difficult with age, illness, or injury and volunteers are there to offer help with yard work, organizing, light cleaning, and handy help tasks (click here for more)
Technology Help
Our tech-savvy volunteers may help with things like smartphone navigation, printer troubleshooting, creating files and folders on your computer, scanning and photo storage, connecting virtually, using email, and other general tech support.
Through our partnership with DOROT we are able to offer another level of technology help to our older adult members who are late tech adopters.  Volunteers who are interested in providing a deeper level of technology help to our members are trained and provided technology guides from Dorot. 
Mobility and access are vital for older adults to maintain good health and a high quality of life. A Little Help coordinates round-trip rides with volunteering neighbors to get older adults where they need to go (click here for more).
A Little Help volunteers are able to go to the post office, pharmacy, or grocery store on behalf of an A Little Help member (click here for more).
We connect neighbors for the shoveling season to support our older adults to keep their walkways safe (click here for more).
Care calls and friendly visits are important points of connection. Our volunteers help their neighbors to engage in meaningful conversations by phone and through in-person social interaction (click here for more).

Membership in A Little Help includes a variety of social and educational activities. All members are encouraged to attend these community-building events (click here for more).